Geschaltet: Samstag, 11 März 2017, 9:31
---

Truck and Man Van Europe Moving Service

Truck and Man European Van Removals Service
only long distance
man and van Freiburg removals relocations or light van delivery transport
for artwork or other items Europe-wide, to and from the
Europe man and van Freiburg removals
area or any other
Europe Germany man and van transport
. My name's Nate, and I have had loads of European man with a van moves experience since 2008. With your choice of these six new Mercedes trucks and vans, I would arrive at your preferred time to hands-on help load, then drive direct to help unload into your next location. Fern- und transeuropäische
"man and van" Freiburg Umzüge und Kleintransporte
, sechs Lkw-Größen sind verfügbar.
Example € Totals and Request Form: Freiburg Man and Van Removals
Client Comments, FAQ: Relocations man and van Freiburg Removals



Totals are all-inclusive: logistics, my help carrying out of and into each location, blanketed truck loading, direct driving, insurance, tax, van or truck transporter with its responsibility, diesel, and all applicable tolls for ferries, roads, tunnels or bridges. Pets and passengers welcome!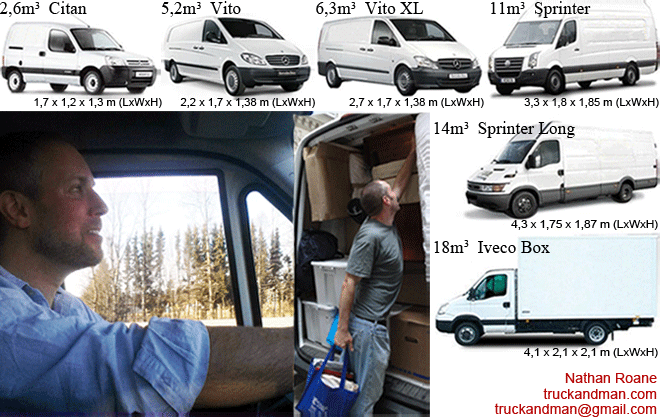 My name is Nate and I'm glad to help transport anywhere long distance Europe, however preferred. Thanks!


http://truckandman.com/freiburg.html
Europe man and van Freiburg removals moving service
Europe man and van removals moving service
Europe man and van Andorra removals moving service
Europe man and van Austria removals moving service
Europe man and van Belgium removals moving service
Europe man and van Corsica removals moving service
Europe man and van Croatia removals moving service
Europe man and van Czech Republic removals moving service
Europe man and van Denmark removals moving service
Europe man and van England removals moving service
Europe man and van France removals moving service
Europe man and van Portugal removals moving service
Europe man and van Greece removals moving service
Europe man and van Hungary removals moving service
Europe man and van Ireland removals moving service
Europe man and van Italy removals moving service
Europe man and van Liechtenstein removals moving service
Europe man and van Luxembourg removals moving service
Europe man and van Monaco removals moving service
Europe man and van Netherlands removals moving service
Europe man and van Northern Ireland removals moving service
Europe man and van Norway removals moving service
Europe man and van Portugal removals moving service
Europe man and van Scotland removals moving service
Europe man and van Slovakia removals moving service
Europe man and van Slovenia removals moving service
Europe man and van Sicily removals moving service
Europe man and van Portugal removals moving service
Europe man and van Sweden removals moving service
Europe man and van Switzerland removals moving service
Europe man and van United Kingdom UK removals moving service
Europe man and van Wales removals moving service

• Ort Freiburg, Relocations Freiburg Germany Removals

• ID-Nr. für das Inserat: 4396467 deutschland